For those of you who might have missed my post on Austen Variations, I wanted to share a slightly augmented version of my AGM report here, with some added news too! After all, I did promise you that I would be announcing my next writing project this month, didn't I?
I've been to Victoria and back, and so now here is your promised report on the JASNA AGM! (Jane Austen Society of North America, Annual General Meeting = JA convention). I'm going to start with some pictures and highlights, followed by a fun anecdote about a bonnet. As you will see, it was truly like something straight out of a Jane Austen novel!
"Look here, I have bought this bonnet. I do not think it is very pretty; but I thought I might as well buy it as not. I shall pull it to pieces as soon as I get home, and see if I can make it up any better." (Lydia, Pride and Prejudice, chapter 39)
As I anticipated (see previous post), the Victoria AGM was great! A different experience from my first and only other AGM (Minneapolis, 2013), which I've heard is to be expected. Frequent attendees say that every AGM has its own personality and flavor, and there will be something uniquely special about each one.
Victoria itself is so beautiful, it's worth a trip there even without the added inducement of an JASNA AGM. Although I've been there 4 or 5 times before but wouldn't mind going again sometime, just for sightseeing. And for the first time, we (my husband and I) stayed at the lovely Empress Hotel!
This year's AGM theme book was Sense and Sensibility, and all (or virtually all) the presentations tied to that novel in some way. Definitely true of the three plenary speakers – Dr. Emma J. Clery, Dr. Robert Morrison, and Susannah Fullerton – who delved deep into the novel with scholarly insight and humor, discovering things about it that I'm not sure even Jane Austen herself intended! If that wasn't enough to entertain and challenge your Jane-loving heart and mind, there were a total of thirty-two breakout sessions (yes, 32!) to choose from, on topics from Col. Brandon in Colonial India to "Female Physiognomy and its Revolutionary Potential." (Honestly, I have no idea what that means.) Unfortunately, with only five time slots available, I couldn't see/hear everything.
That's not even mentioning the other special offerings: dance classes, a fan-painting class, a bookbinding workshop, and tours to local landmarks (The Empress Hotel, Butchart Gardens, Craigdarroch Castle), wine tasting, and a "Chocolate and Churches Walk," among other things. Oh! and let's not forget my favorite part: the formal banquet and ball!
Are you overwhelmed yet? It can easily happen. So much to do and experience that you can't possibly take it all in. So here's some unsolicited advice for when you go to an AGM (which I hope every one of you will someday!):
First and foremost, HAVE FUN! Dress up. Proudly parade your finery and your love for Jane Austen. You're among likeminded friends who won't think it's silly to do so. In fact, they will probably join you!
Read as much about it as possible in advance, and then thoroughly study your program when you arrive. I neglected to do the second part and missed a thing or two because I didn't know where to go or when.
Take another JA-enthusiast buddy/roommate with you if possible – to double your fun and have somebody to hang out with. This time my roommate was my husband, which was great in some ways, but he didn't attend the sessions with me.
Make rendezvous appointments with people you specifically want to meet. Don't depend on running into them by accident. With 600+ people there, you won't "just happen" to see everybody! For example, Suzanne, I didn't realize until after the fact that we never met. 😦
But among many others, I DID see friend and fellow Austen Variations author Diana Birchall again (below). I finally met long-time online friend and fellow author Brenda Cox, showing off her brand new book (for which I did the cover art). And here's me with my DH, who joined me for the formal banquet Saturday night.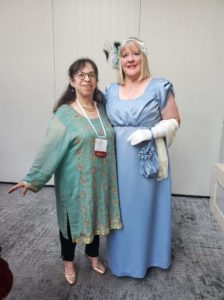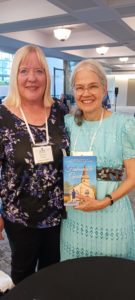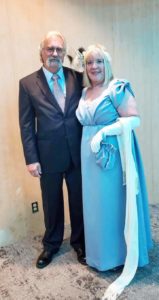 I absolutely LOVED dressing up and dancing! As with the other AGM I attended, that was my favorite part. I'm proud to say that I stayed to the very end of the ball and danced every dance, though my feet were killing me afterwards. (I guess that would be another piece of good advice: wear comfortable shoes!) I only wish one thing… Well two, actually – 1) that I could find a local Regency dance club so I could do more of it, and 2) that my hubby was as enthusiastic.
Now for my very Austenesque bonnet-related anecdote. You see, in the two weeks prior to the AGM, I was so consumed with getting my ballgown finished that I never stopped to think that I really should contrive something to wear on my head! So there I was in Victoria, without a suitable headdress and completely at a loss for what to do about it. I hoped I might find something last minute at the Emporium or the Soho Bazaar, but no luck. So with only an hour to dress before the banquet, I went back to my room, excited about the evening events but sad that I wouldn't be looking my best.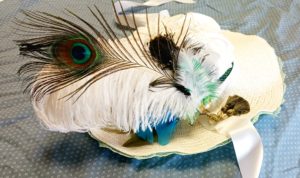 There I spied the bonnet I had brought – acceptable for a daytime but not at all for an evening banquet and ball. The feathers, though… I thought they had possibilities. If only I could borrow them and somehow affix them in my hair. But I didn't even have a hairclip! Still, I had to try. So I started teasing the part with the feathers and tassels away from the bonnet itself. Well, since it had all been stuck together with glue-gun glue, the hatband came off with it! Soon I had the whole thing free, and naturally the band fit my head perfectly, feathers and all.
I couldn't help thinking it was a very Austenesque solution to my problem. Not only did I have the precedence established by that Lydia quote at the top of the page, about pulling a bonnet apart to make something better. I also claim this one:
…next week shall begin my operations on my hat, on which you know my principal hopes of happiness depend. (from one of Jane Austen's preserved letters, 1798)
Happiness, yes! I felt quite happy with my headdress, which hung together through the whole night. And I suspect no one (except those I shared this story with) guessed it was originally part of something else. So now you know why my head isn't embarrassingly bare in the pictures above! And I will never forget the serendipitous solution, courtesy of Jane Austen and the magic of a glue gun. But then I think surprising and interesting things always happen at JASNA AGMS.
---
Finally, here's the announcement of my next writing project. Drum roll please. I've decided to go ahead with my official Emma novel, to complete my goal of writing at least one book based on each of Jane Austen's six. (Can you name the others?) So it will be Mr. Knightley in His Own Words! I've been minutely rereading the original, gleaning all the information that's there as well as identifying intriguing blanks that I can fill in. Like I did with Fitzwilliam Darcy… and Colonel Brandon…, I will be not only retelling the story from the hero's point of view, I will be adding tons of new scenes and backstory to flesh out Mr. Knightley's life and character. I look forward to the challenge and to sharing the results with you!